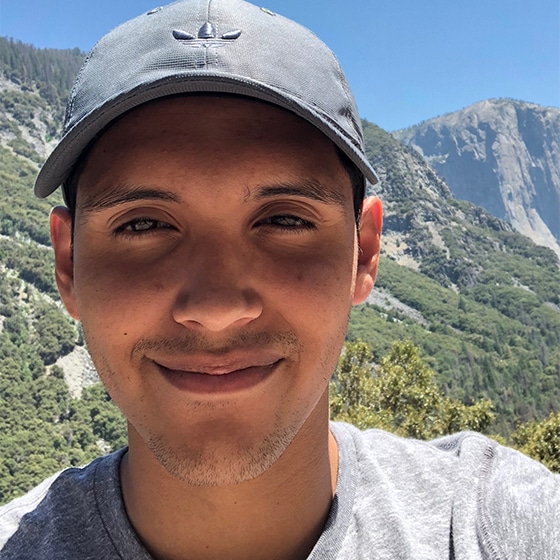 OSCAR NIETO-PEREZ
"This Scholarship was a game changer since I was not sure of how I was going to be able to pay for my studies. I am very thankful for the generosity of those who donated to the Rockford Promise Foundation, because without your help I would have a hard time paying for my studies and helping my parents."
Oscar Nieto -Perez graduated from Auburn high school in 2017, the first in his family to earn a high school diploma. With the help of a Rockford Promise scholarship, in May of 2018 he'll also be the first to earn a college degree. While Oscar and his family are understandably proud of his associate degree from Rock Valley College, it won't be the end of his higher education journey.
Without enough money for college, Oscar thought he would have to work full time and juggle classes at Rock Valley College. He had heard about Rockford Promise scholarships through a school guidance counselor but thought he wouldn't be accepted into the program. However, when a coach also encouraged him to apply, he listened. It turned out to be a good thing. Oscar was ecstatic when he was notified he was a Rockford Promise Scholar. "I'm really thankful," he said. "It means a lot that I won't have any out-of-pocket expenses for my associate degree. My parents were happy and proud that I had gotten my scholarship. All my hard work paid off."
But the money was only part of what Oscar received from Rockford Promise. He also got a mentor, Dr. Linda Chang, who helped provide direction on his course of studies. Oscar started as a pre-med major but wasn't sure that the path to becoming a doctor was what he wanted. Because he was interested in medicine and biology, his Rockford Promise mentor encouraged him to explore the biomedical field.
Dr. Chang also provided Oscar advice about choosing a college to continue his studies and even the classes that would work best work for him. She even helped him set up an appointment with the Director of Biomedical studies at the University of Illinois at Chicago, where Oscar will head this fall to study biochemistry.
Oscar also has a piece of advice for students graduating from high school. "Just because you think you won't qualify for a Rockford Promise scholarship, you should still apply," he said. "I didn't think I would get it, but I did."
Thanks to Rockford Promise, Oscar is now continuing a higher education journey he doubted would be possible. After graduation from University of Illinois at Chicago, he then plans to pursue a master's degree and become a Biomedical Technician. "I'm passionate about trying to improve people's lives, and I'd like to leave my mark on the planet," he said.