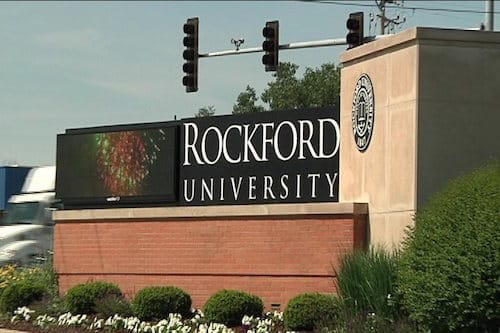 News
Rockford Promise Scholarship Applications Double for Rockford University
Rockford, IL – This year, Rockford Promise is seeing more than double the number of applications for one of it's partner institutions – a sign that interest in the program continues to grow.
The number of Rockford Promise applications to Rockford University this year increased by 115 percent compared with 2021, with 41 RPS 205 seniors applying for the scholarship to Rockford University. This shows the deepening partnership between the two organizations.
Since 2016, Rockford Promise has awarded 22 scholarships for deserving students to attend Rockford University. Three of those students have graduated, and including four Rockford Promise Scholars who started their college careers at Rock Valley College, there are now 23 active Scholars attending Rockford University. An additional three Scholars are on track to graduate this spring.
Most notably, Rockford Promise has a 100 percent retention rate with Rockford University. Every Rockford Promise Scholar ever enrolled at Rockford University either has graduated or is still on track towards graduation.
Retention and successful degree completion is a cornerstone of the Rockford Promise program. Nationally, 33 percent of incoming college freshmen don't return for a sophomore year and, according to the National Center for Education Statistics, typically only 59 percent earn a bachelor's degree within six years. Rockford Promise works diligently to ensure Scholars have both the funds to pursue higher education as well as the support to successfully complete their degree programs.
"Rockford Promise Scholars who attend Rockford University are predominantly first generation college students from low income and minority families," said Dr. Tasha Davis, Rockford Promise executive director. "In partnership with Rockford Promise support, Rockford University provides accessible student resources and student engagement that focuses on unique needs of these students. The partnership model between Rockford University and Rockford Promise contributes to the amazingly high retention rates for our Scholars."
Rockford Promise Scholars have outperformed their peers, including those in other Promise Program across the nation, thanks to strong scholar support. In addition to academic and peer advising, Rockford Promise recruits and connects mentors to every Scholar that requests one. 
With the growing number of Rockford Promise applications for all three higher educations partners (Rockford University, Northern Illinois University and Rock Valley College), Rockford Promise is in need of volunteer mentors to support Scholars. For more information about becoming a Rockford Promise mentor and supporting the 2022-23 cohort of Scholars, please visit www.rockfordpromise.org, email contact.us@RockfordPromise.org or call 815-627-0491.
The application deadline for Rockford University scholarship applications was January 7. The Rockford Promise – Northern Illinois University scholarship application deadline is February 1 and the Rockford Promise –  Rock Valley College application deadline is March 1. The 2022-2023 scholarship recipients will be announced in May.