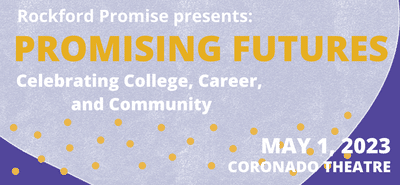 News
Why investing in Rockford Promise is investing in Rockford
On May 1, Rockford Promise is holding its inaugural Promising Futures celebration, where the organization will celebrate not only its new cohort of Scholars but its graduates as well.

Those graduates show why when you invest in Rockford Promise you actually are investing in the Rockford economy.

By helping talented students who may not have the financial resources to go to college you are helping change the future for not only the students but their families, present and future. You also are helping the local business community by helping talented students fulfill their potential. If you help local students develop skills that means companies don't have to over invest to bring talent from outside the region.
Undoubtedly, many Rockford Promise graduates will take their talents elsewhere. Chanel Black, a Rockford Auburn graduate who was in the third Rockford University cohort in 2018, now is on tour with Legally Blonde the Musical after receiving her theater degree from RU in 2022.

More so far are like Erica Inkale. Erica was part of the first Rock Valley Cohort in 2016. She earned her RVC degree in 2019 and transferred to Northern Illinois University where she received a bachelor's degree in 2022. Erica has been a caseworker at Lifescape Community Services in Rockford since August of 2020.

Celeste Torres, a Guilford graduate, was part of the 2019 cohort at RVC. She earned her associate's degree in 2021 and is now a universal banker at PNC Bank in Rockford.

Alyssa Giardono and Vanessa Peoples, both Jefferson graduates, are helping ease the nursing shortage. Giardono earned her nursing degree from Rockford University in May 2022 and went to work for OSF Saint Anthony Medical Center. Peoples graduated from Rockford University in 2021 and now works at UW Health SwedishAmerican Hospital.

Magdaleno Mendoza, a Jefferson graduate, was part of the second RU cohort in 2017. He earned a degree in biochemistry in 2022 and now works at Thermo Fisher Scientific in Rockford.

And Alondra Torres, another Jefferson graduate, is working for Rockford Promise while pursuing a master's degree from the University of Illinois-Chicago.

These are just a few success stories with many more to come. If you'd like to learn more about Rockford Promise, come to the Promising Futures celebration.