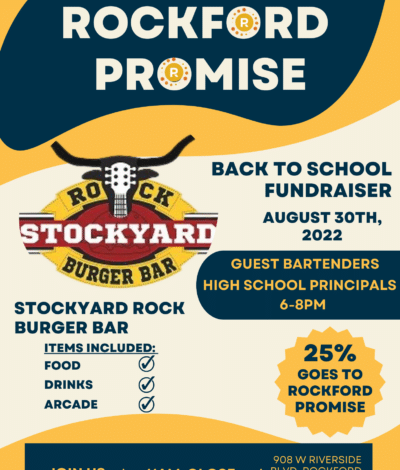 Events
Down some hamburgers for Rockford Promise
Tuesday, Aug. 30, satisfy your hamburger cravings at Stockyard Burger Bar
On Tuesday, Aug. 30, you can enjoy one of the five best burger joints in Rockford – according to Yelp.com – when Stockyard Burger Bar hosts a Rockford Promise day.
The restaurant opens at 11 a.m. From 6 p.m. to 8 p.m., the principals of Rockford's four public high schools will be guest bartenders. Twenty five percent of all proceeds go to Rockford Promise.
An education-themed movie – Jack Black's "School of Rock."
There will be live music from the NIU Jazztet.
Rockford Promise provides high-potential RPS205 graduates the opportunity to attend college tuition-free at Rock Valley College, Rockford University, and Northern Illinois University, so that eligible students can gain access to the life-changing impact of a college degree. The long-term vision of Rockford Promise is to make college available to every member of our community, and to enhance the local intellectual infrastructure of the city we love.
WHEN:
Wednesday, August 30, 2022
Beginning at 11 a.m.
WHERE:
Stockyard Burger Bar
908 W. Riverside Blvd.