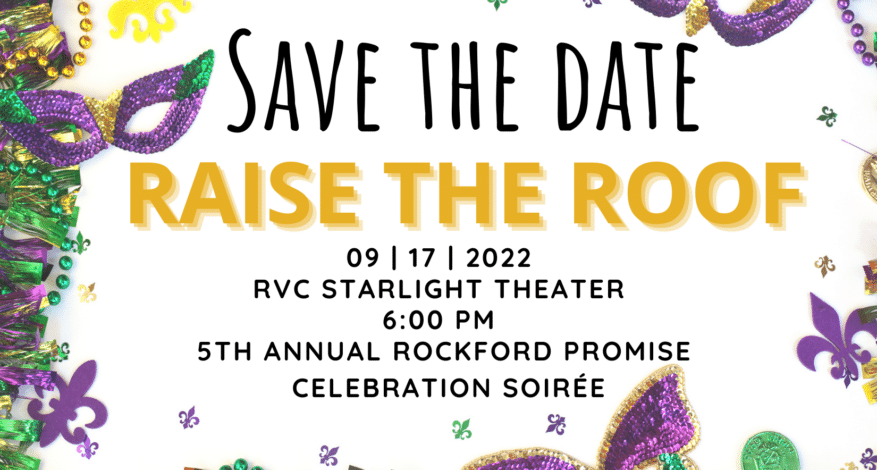 Events
Raise The Roof 2022
Join us and LET THE GOOD TIMES ROLL as we celebrate and raise funds for Rockford Promise Scholars! Laissez le bon temps rouler!
This year's annual Rockford Promise party will be at the lovely Starlight Theatre on Rock Valley College's campus. This year's event will focus on funding Scholar support for more than 300 students at Rockford University, Rock Valley College, and Northern Illinois University! We hope to continue and maintain program growth and excellence in 2022 to ensure that students not only attend college, but that they graduate with a career-enhancing degree.
This celebration features:
Mardi Gras themed atmosphere
Open-air dining under the stars
Dancing, games, and prizes
Local food trucks
Wine and craft beer
Introduction to our 2022 Scholars!
Rockford Promise provides high-potential RPS205 graduates the opportunity to attend college tuition-free at Rock Valley College, Rockford University, and Northern Illinois University, so that eligible students can gain access to the life-changing impact of a college degree. The long-term vision of Rockford Promise is to make college available to every member of our community, and to enhance the local intellectual infrastructure of the city we love.
What to wear: Casual — Represent your favorite high school or college, as we celebrate all graduates!
Please raise up Rockford's youth – and the roof!- and our future leaders while supporting Rockford Promise. You can also make a donation on our website, www.rockfordpromise.org.
WHEN:
Saturday, September 17, 2022
6-10 p.m.
WHERE:
Starlight Theatre on the Rock Valley College campus
3301 N. Mulford Rd
ATTIRE:
Casual — Represent your favorite high school or college, as we celebrate all graduates!
TICKETS:
$145 per person or $275 per couple
$1,250 for a table of 10
$1,750 for a corporate sponsor table of 10 with advertising
Purchase tickets through our Eventbrite page.