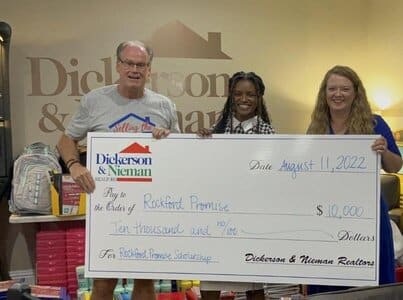 News
Dickerson & Nieman donates $10k to Rockford Promise
ROCKFORD – Dickerson & Nieman, one of the Rock River Valley's largest real estate companies, donated $10,000 to Rockford Promise.

It is the second time Dickerson & Nieman has contributed to the Rockford Promise cause. The first gift was in 2019. The funding comes from donations from the organization's more than 130 real estate professionals.

WREX-TV covered the announcement of the donation. Rockford Promise Interim Executive Director Kaylene Groh thanked the organization for their continued support.

"This donation, this investment in the future of our youth, echoes here locally on multiple levels – not only in the lives of these students and their families; but also in our neighborhoods and businesses as we collectively help build our future pipeline of talented professionals, ready and available to get to work here in our region," Groh told WREX.

Dickerson & Nieman has been serving the Rockford area since 1964. The company has offices in Rockford, Byron and Oregon.