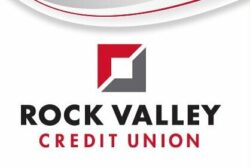 News
Rock Valley Credit Union includes Rockford Promise in its 12 Days of Giving
LOVES PARK – Rock Valley Credit Union spread some Christmas cheer on Friday by donating $2,000 to Rockford Promise as part of its 12 Days of Giving.

The donation will go for much needed Scholar support, helping cover the ongoing costs and managing and mentoring more than 160 college students.
Rockford Promise's mission is to transform Rockford by helping the outstanding students of Rockford Publics Schools afford a college education. This will enhance the educational attainment level of our community and encourage residents and businesses to choose Rockford.

The long-range investment in Rockford is what attracted Rock Valley Credit Union to donate to the cause.
"Rock Valley Credit Union is committed to educating our community and is proud to support an organization that believes that the power of education can change a life," said Ana Montoya, Rock Valley Credit Union's director of community outreach. "Rockford Promise is life changing for so many youths and their families. RVCU understands that investing in Rockford Promise today is a direct investment in the community's future."

Of course, just helping a student go to college is one thing. Rockford Promise commits to helping its Scholars overcome the everyday hurdles of being a student by offering one-on-one mentoring. Montoya said that is an area that Rock Valley would like to explore becoming involved in as well.
"Our team is big on mentorship and team building. We are actively involved within our communities and could see the role of mentorship as an opportunity for our staff to engage with Rockford Promise Scholars."
Rock Valley Credit Union is the third largest credit union in Illinois with more than $140 million in assets and 17,000 members. Locally, Rock Valley has branches in Loves Park, Machesney Park and Rochelle.

Friday's donation was the latest indication that the Rockford-area business community is increasingly seeing the benefits of Rockford Promise and its mission. In the past three months, Rockford Promise has received donations from Rock Valley Credit Union, Hard Rock Heals, the charitable arm of Hard Rock International, and the Community Foundation of Northern Illinois.